Parineeti Chopra & Raghav Chadha's Wedding: Glittering Mehndi Ceremony with Celeb Guests
Mehndi Ceremony Illuminates Delhi as Countdown to Grand Celebration in Udaipur Begins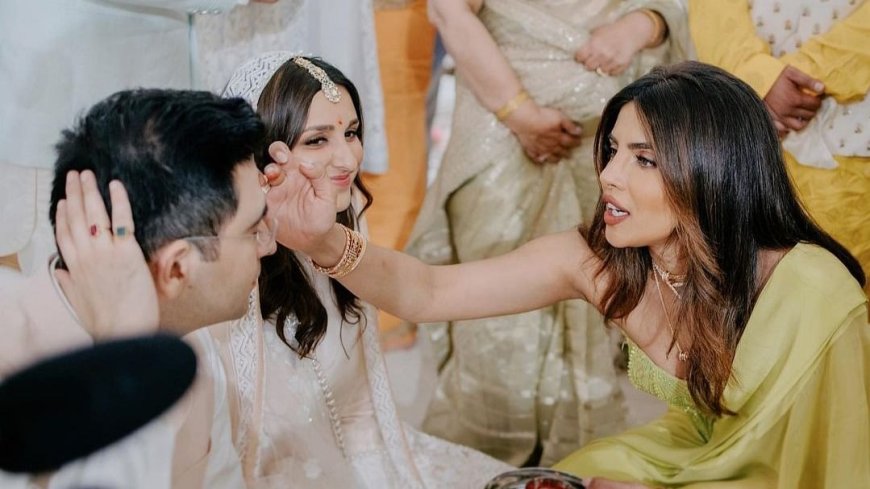 Parineeti Chopra & Raghav Chadha's Wedding: Glittering Mehndi Ceremony with Celeb Guests
Parineeti Chopra and Raghav Chadha's pre-wedding celebrations kick off with a vibrant Mehndi ceremony attended by family and friends. The festivities are set to culminate in a grand wedding in Udaipur. Notable guests, including Priyanka Chopra's mother Dr. Madhu Chopra, and cricket veteran Harbhajan Singh, grace the occasion. The couple's wedding card reveals an opulent affair at Leela Palace, Udaipur, promising a memorable event for all.
Celebrity Arrival: Dr. Madhu Chopra and Siddharth Chopra Grace the Occasion
As the sun dipped below the horizon, the residence of Aam Aadmi Party leader Raghav Chadha in Lutyens's Delhi shone with an air of festivity. Dr. Madhu Chopra, accompanied by her son Siddharth Chopra, arrived for the vibrant Mehndi ceremony, marking the countdown to Raghav and Parineeta Chopra's grand wedding in Udaipur on September 23-24.
Spiritual Prelude: Ardaas Ceremony and Kirtan at Delhi Gurudwara
The day prior, the couple's joyful picture garnered attention on social media as they participated in an ardaas ceremony and kirtan at a Delhi gurudwara. The atmosphere was infused with positivity and blessings.
Elegant Venue: Raghav Chadha's Official Residence Bedecked in Lights
A 'paath' ceremony was also held at Chadha's residence, which was aglow with bright lights. Punjab Police personnel ensured tight security, creating a serene atmosphere for the spiritual gathering.
Star-Studded Affair: Celebrities Join the Celebration
The festivities witnessed the arrival of esteemed guests including former Test cricketer and AAP Rajya Sabha MP Harbhajan Singh, Fashion Design Council of India Chairman Sunil Sethi, and Pawan Sachdeva, Chadha's fashion designer uncle. Sunil Sethi shared his enthusiasm for the occasion, expressing, "Parineeti and Raghav make a beautiful couple, a pride for Delhi, truly 'made for each other'."
Fashion Statements: Raghav's Outfit Designed by Pawan Sachdeva
Sethi also revealed that Raghav, in line with his engagement, donned an outfit crafted by Sachdeva, showcasing a perfect blend of tradition and style.
Countdown Begins: Udaipur Wedding Itinerary Unveiled
The wedding card, which garnered attention on social media, revealed the detailed schedule: 'Divine Promises: A pearl white Indian wedding …. Leela Palace. Jaimala: 3:30 p.m. Pheras: 4:00 p.m. Vidai: 6:30 p.m.' The picturesque card encapsulates the scenic beauty of Udaipur, setting the tone for an enchanting celebration.
A Feast for the Eyes: Detailed Wedding Itinerary
September 23: The festivities kick off with Parineeti's 'choora' ceremony at 10 a.m. in the hotel's Maharaja Suite.

Fresco Afternoon: From 10 a.m. to 1 p.m., a 'Fresco Afternoon' will be held on the terrace near the ballroom, offering a delightful blend of culture and celebration.

September 24: Raghav's 'Sehrabandi' will be held at the iconic Taj Lake Palace at 1 p.m., a momentous occasion set against the backdrop of breathtaking views.

The Grand Baraat: At 2 p.m., the 'baraat' will commence its journey from Taj Lake Palace, promising a grand spectacle.
A Night to Remember: Grand Reception Overlooking Lake Pichola
The celebration culminates in a grand reception themed 'A Night of Amore' at 8:30 p.m., hosted at The Leela Palace Courtyard. The venue provides a mesmerizing view of Lake Pichola, adding a touch of magic to the festivities.
Star-Studded Extravaganza: A Galaxy of Dignitaries and Celebrities Expected
The reception is poised to be graced by a constellation of political and Bollywood luminaries, with the presence of Priyanka Chopra and Nick Jonas adding to the star power of the event.
Parineeti Chopra & Raghav Chadha: A Match Made in Stardom
View this post on Instagram
The union of Parineeti Chopra, a versatile Bollywood actress known for her exceptional acting prowess, and Raghav Chadha, a prominent political figure and leader of the Aam Aadmi Party, marks the convergence of two dynamic worlds.
Parineeti, hailing from a family deeply rooted in the Indian film industry, has carved her niche with stellar performances in movies like "Ishaqzaade," "Hasee Toh Phasee," and "The Girl on the Train." Her vivacity and dedication to her craft have won her accolades and a dedicated fan base.
Raghav Chadha, on the other hand, is known for his astute political acumen and has emerged as a prominent voice in Indian politics. A member of the Aam Aadmi Party, his vision for inclusive and progressive governance has garnered widespread appreciation.
The couple's journey, though distinct in their respective fields, reflects a shared commitment to excellence and a passion for making a positive impact in their chosen domains.
As they embark on this new chapter of their lives together, their union promises to be a celebration of love, shared values, and a mutual dedication to their individual callings.
For more updates on Parineeti Chopra & Raghav Chadha's wedding and their journey ahead, stay tuned.
Must Read: Salman Khan Faces Hilarious Troll Over Marriage Question - Watch Viral Video