Amitabh Bachchan Opens Up About His Scary 'Coolie' Shoot Injury: Thanks Fans for Support
In a memorable scene of Coolie Movie, Amitabh Bachchan faced off against Puneet in the film, but a miscalculated jump led to a near-fatal injury.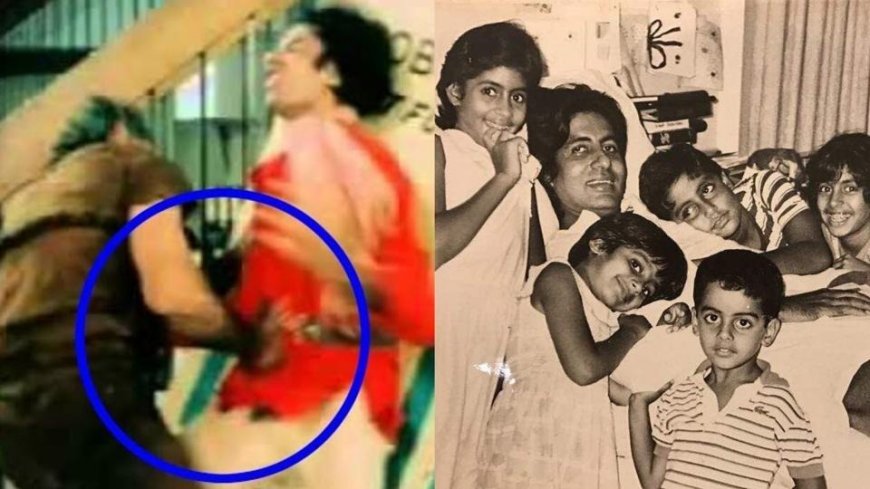 Amitabh Bachchan Opens Up About His Scary 'Coolie' Shoot Injury: Thanks Fans for Support
Bollywood Megastar Amitabh Bachchan recently shared his heartfelt gratitude towards his fans for their unwavering support during a challenging time in his career. The incident he referred to took place during the shooting of the 1983 action-comedy film 'Coolie'.
Directed by Manmohan Desai and written by Kader Khan, 'Coolie' follows the story of Iqbal Aslam Khan (played by Amitabh Bachchan), a railway worker who was tragically separated from his mother Salma (played by Waheeda Rehman) due to a complex situation involving Zafar (Kadar Khan).
Years later, destiny brings Iqbal and his brother Sunny (Rishi Kapoor) back together to rescue their mother from Zafar's clutches. The film also features Rati Agnihotri, Shoma Anand, Suresh Oberoi, and Puneet Issar.
One of the most memorable scenes in the film involves a fight sequence with Puneet, during which Amitabh Bachchan experienced a near-fatal injury due to a miscalculated jump. This incident left a significant impact on both the actor and his fans.
During an episode of the quiz-based reality show 'Kaun Banega Crorepati' Season 15, Amitabh Bachchan had a touching interaction with a contestant, Jasnil Kumar from Anwak, Uttar Pradesh. Jasnil shared, "Sir, I'd like to share something. In Ujjain and at Kashi Vishwanath temple in Benaras, there are rituals conducted. When India is in the World Cup finals, or when there's an India-Pakistan match; also, when the greatest actor of the century falls sick. We conduct rituals. This is the truth."
Moved by this sentiment, Amitabh responded, "Thank you very much. I will always be grateful. When I got hurt in 1982 during the shoot of 'Coolie', people prayed for my health and recovery. I can never forget that. It's something I owe to my well-wishers."
He went on to say, "I can never repay that debt I believe so. I'm here because of their wishes and prayers."
'Kaun Banega Crorepati 15' is currently airing on Sony and continues to be a platform where Amitabh Bachchan connects with fans and shares cherished moments like these.
Some lesser-known and interesting facts about Amitabh Bachchan:
Injury and Resilience: As mentioned earlier, during the shooting of the film 'Coolie', Amitabh Bachchan suffered a near-fatal injury. What many may not know is that he spent several months in the hospital and went through multiple surgeries. His remarkable recovery is a testament to his resilience.

Rejected by All India Radio: Before entering the film industry, Amitabh Bachchan faced rejection from All India Radio. They believed his voice was unsuitable for radio broadcasting.

Original Name: Amitabh Bachchan was born as Inquilaab Srivastava. He later adopted the pen name Amitabh, meaning 'one with a boundless splendour'.

Star of the Millennium: In a BBC online poll, Amitabh Bachchan was voted as the "Star of the Millennium", beating the likes of Charlie Chaplin and Marlon Brando.

Polio Eradication Campaign: Amitabh Bachchan has been actively involved in the Polio Eradication Campaign in India. His efforts played a significant role in making India polio-free.

Phantom Connection: Amitabh Bachchan's father, Harivansh Rai Bachchan, wrote the famous poem 'Madhushala'. Interestingly, Amitabh Bachchan played the role of a character named 'Bakasura' in the movie 'Bhoothnath Returns', which was based on a poem by his father.

French Legion of Honour: He is one of the few Indians to have received the French Legion of Honour, which is the highest civilian award in France.

Inspirational Blogger: Amitabh Bachchan is an avid blogger. He has been regularly writing on his blog since 2008, sharing thoughts, experiences, and anecdotes with his fans.

Rejected by All India Talent Contest: Early in his career, Amitabh Bachchan was rejected by the All India Talent Contest. The judges felt his voice was too deep.

Award-winning Debut: His first film 'Saat Hindustani' (1969) won the National Film Award for Best Feature Film in Hindi.
These fascinating facts showcase the multifaceted persona of Amitabh Bachchan and his enduring impact on the Indian film industry and society as a whole.
Must Read: Parineeti Chopra & Raghav Chadha's Wedding: Glittering Mehndi Ceremony with Celeb Guests