Tyson Fury and Paris Welcome Their Seventh Child: A Joyful Addition to the Fury Family
Boxing champion Tyson Fury and reality star Paris celebrate the arrival of their seventh child. Learn about their heartwarming journey and growing family.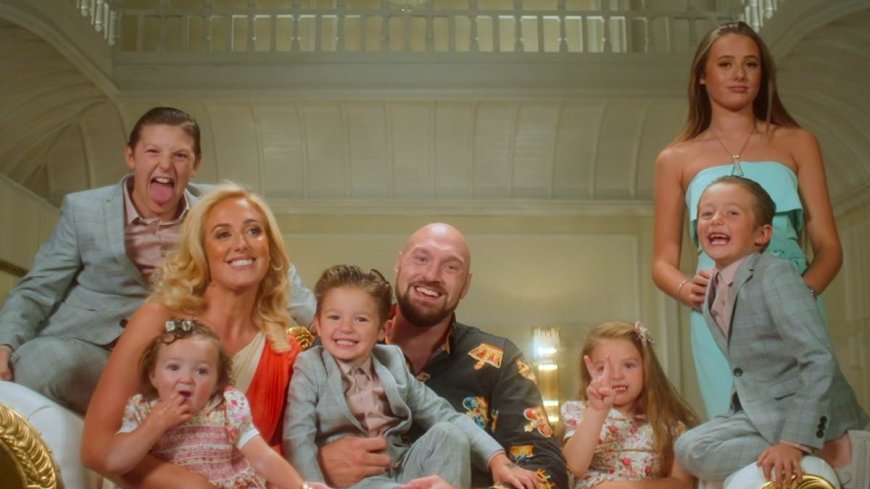 Tyson and Paris Fury welcome their seventh child, a baby boy
Tyson Fury, the 35-year-old heavyweight champion boxer, and his partner, reality star Paris Fury, 33, joyfully welcomed their seventh child on Monday. The couple shared their excitement with OK! magazine.
In an Instagram post by Tyson, Paris expressed their elation, saying, "We're over the moon to have welcomed our baby boy to the Fury family. His brothers and sisters can't wait to meet him and create lots of Fury fun! Our boy is the most perfect addition and we're bursting with love for him. It's crazy how you can love someone so quick."
Paris, now a proud mother of seven, shared an endearing photo of their new bundle of joy swathed in a white blanket, with Tyson and herself standing against a backdrop of sunflowers. Tyson, grinning in a baseball hat and shorts, and Paris, donning a charming summer dress, exuded happiness.
Childhood sweethearts, Tyson and Paris, met at the age of 14 and tied the knot five years later at ages 19 and 20, respectively.
Their other six children are Venezuela (13), Prince John James (11), Prince Tyson II (seven), Valencia (five), Prince Adonis Amaziah (four), and two-year-old Athena.
The Furys shared their pregnancy news in March, with Tyson posting a picture of them on a cinema date, captioned, "I get to do date night with my beautiful pregnant wife @parisfury1. God is great. Seventh baby incoming. Fantastic news to cheer me up." Paris also expressed her excitement online, saying, "Baby NO 7 on the way God willing."
In Paris' book, 'Love and Fury: The Magic and Mayhem of Life with Tyson,' she revealed their shared dream of having a large family, upholding the cherished Traveller tradition. She writes, "Tyson and I had always intended to carry on the great Traveller tradition and have a big family. Three children at the very least, we'd say to each other, maybe even ten if we were lucky."
Tyson, with his characteristic humor, has often mentioned his desire for a family big enough to field a "mixed football team," expressing his love for the idea of having ten children.
Beyond their growing family, Tyson Fury is renowned for his remarkable boxing career. He gained widespread recognition after defeating Wladimir Klitschko in 2015, becoming the unified heavyweight champion. Known for his agile movements and powerful punches, Fury has earned a dedicated fan base.
Paris Fury, on the other hand, has built a name for herself in the reality TV world, known for her candid and down-to-earth personality. She's also a strong advocate for mental health awareness, using her platform to destigmatize conversations around mental well-being.
The Furys' enduring love story and shared commitment to family values continue to captivate audiences worldwide. As they embark on this new chapter of parenting their seventh child, their journey is marked not only by fame and success but also by the warmth and love they bring to their expanding family.
Must Read: Katy Perry's Blockbuster Deal: $225 Million Music Rights Sale to Litmus Music