Shah Rukh Khan's Exclusive Dinner for David Beckham: Star-Studded Fun with Aryan Khan!
Inside the glitzy night at Mannat! Shah Rukh Khan hosts David Beckham, Sonam Kapoor, and Anand Ahuja. A fun-filled evening captured in cool selfies and stylish shoes.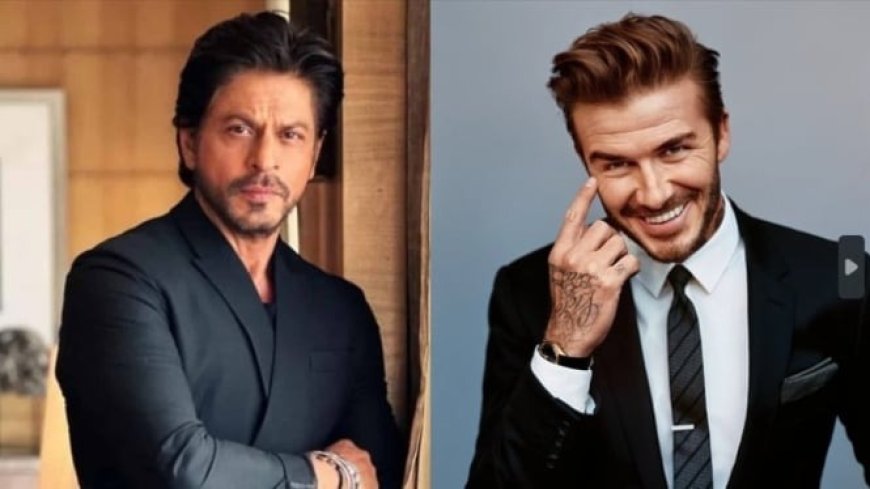 Shah Rukh Khan's Exclusive Dinner for David Beckham: Star-Studded Fun with Aryan Khan!
Bollywood Superstar Shah Rukh Khan hosted a special dinner at his home in Mumbai for football star David Beckham. The two celebrities enjoyed a fantastic evening at Mannat in Bandra.
Beckham, showing his trademark smile, entered the scene, greeting paparazzi with waves. Videos capturing his visit at Mannat surfaced on social media, adding to the buzz. The party was a star-studded affair, with Sonam Kapoor and Anand Ahuja joining in for the fun.
View this post on Instagram
Anand shared a group picture from the night, showcasing their stylish shoes while keeping the hosts' faces a mystery. Aryan Khan sported silver sneakers, and Shah Rukh Khan opted for classy white ones, creating a unique and interesting snapshot of the glamorous evening.
View this post on Instagram
Fans expressed their excitement as two legends, Shah Rukh Khan and David Beckham, came together for this exclusive dinner. The video clips and images shared online gave followers a glimpse into the glitzy night filled with laughter and camaraderie.
David Beckham, during his visit to India, attended the World Cup 2023 semi-final match between India and New Zealand in Mumbai. He interacted with cricket legends Sachin Tendulkar and Virat Kohli before heading to Sonam Kapoor and Anand Ahuja's house for another star-studded dinner party. The guest list included Bollywood stars like Karisma Kapoor, Arjun Kapoor, Malaika Arora, and Maheep Kapoor.
View this post on Instagram
Not just limited to glamorous events, Beckham, a UNICEF ambassador, also visited a village in Gujarat, engaging with children and playing cricket with them. The football star's trip included various highlights, including a meeting with Sara Ali Khan at the Meta office before wrapping up his time in India.
The exclusive dinner hosted by Shah Rukh Khan added another memorable moment to Beckham's visit. The football star left for the UK in a private jet after the party, concluding his eventful and star-studded stay in India.
Must Read: Netizens React to Old Shah Rukh Khan Statement About Women