Israel-Hamas Conflict Live Updates: Joe Biden Calls for Humanitarian Pause, Foreigners Evacuate Gaza
Stay informed on the latest developments in the Israel-Hamas conflict. Biden calls for a humanitarian pause, while foreigners evacuate Gaza. Get live updates.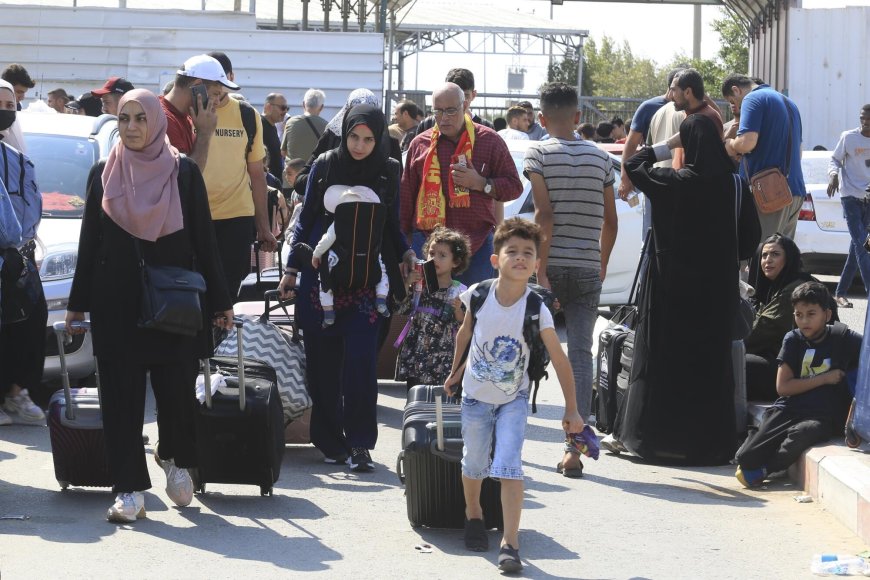 Israel-Hamas Conflict Live Updates: Joe Biden Calls for Humanitarian Pause, Foreigners Evacuate Gaza
U.S. President Joe Biden has called for a humanitarian 'pause' in the ongoing Israel-Hamas conflict, as the border with Egypt opens to allow foreigners and wounded individuals to leave Gaza. The situation remains critical, with the death toll among UNRWA staff in Gaza now standing at 70.
The besieged Gaza Strip saw more foreign nationals preparing to depart on Thursday, following reports from the Hamas-run government that at least 195 Palestinians lost their lives in Israel's attacks on the Jabalia refugee camp. U.N. human rights officials have raised concerns, suggesting that these strikes may constitute war crimes.
In an initial phase of the evacuation effort, 320 foreign citizens from a list of 500, along with numerous severely injured Gazans, crossed into Egypt on Wednesday. This operation is a collaborative effort involving Israel, Egypt, and Hamas.
Also Read: Live Updates: Israel Escalates Intensive Bombardment of Gaza in Conflict with Hamas
Officials at the Gaza border have announced the reopening of the border crossing on Thursday to facilitate the departure of more foreigners. According to diplomatic sources, approximately 7,500 foreign passport holders are expected to leave Gaza over the course of about two weeks.
Israel continues its offensive against Hamas militants, employing various means including land, sea, and air strikes in an attempt to neutralize the group. This campaign was launched in response to Hamas' incursion into southern Israel on October 7. The situation remains dynamic, with global attention focused on efforts to de-escalate tensions and ensure the safety of civilians in the region.
Stay tuned for real-time updates here...
Key Moments
Biden urges humanitarian pause in Israel-Hamas conflict.
Egypt opens border for foreigners and wounded to leave Gaza.
Hamas reports 195 deaths in Jabalia camp, sparking war crimes concerns.
7,500 foreign passport holders to evacuate Gaza in two weeks.
---
Hamas Reports 195 Palestinians Killed in Israeli Strikes on Gaza's Jabalia

At least 195 Palestinians lost their lives in Israeli attacks on Gaza's Jabalia refugee camp over the course of Tuesday and Wednesday, according to a statement from the Hamas-run government media office. Tragically, approximately 120 individuals remain unaccounted for under the debris, while an additional 777 are reported to be injured.

Israel has stated that their operations specifically targeted and resulted in the demise of Hamas leaders within the camp. The situation continues to unfold amid rising concerns and calls for humanitarian intervention.

U.N. Voices Concerns: Israeli Strikes on Gaza Refugee Camp Raise War Crime Suspicions

The UN Human Rights Office has expressed grave concerns over the Israeli air strikes targeting Jabalia refugee camp in Gaza. The scale of destruction and high number of civilian casualties have led the office to suggest that these strikes may constitute war crimes. The situation remains a focal point of international scrutiny and calls for a thorough investigation.

Biden Advocates Humanitarian 'Halt' in Israel-Hamas Conflict

U.S. President Joe Biden, addressing the Israel-Hamas war, expressed his belief in the necessity of a humanitarian "halt". This statement followed an interruption during his campaign speech by a protester urging a ceasefire.

This position represents a nuanced departure for Mr. Biden and his senior White House advisors, who have consistently emphasized their reluctance to prescribe how the Israeli military conducts its operations in the midst of the Middle East crisis.

The dynamic nature of the situation is attracting global attention, as efforts intensify to facilitate a cessation of hostilities and create a path towards peace.

Latin American Nations Strongly Condemn Israel's Offensive in Gaza

Several of the largest countries in Latin America have expressed strong condemnation for Israel's recent attacks on a densely populated refugee camp in the Gaza Strip. This condemnation has further widened the diplomatic divide between the region and the Middle Eastern nation.

Argentina, boasting the largest Jewish community in Latin America, along with Peru and Mexico, have criticized the Israeli assaults. The Gaza government, under Hamas control, reported nearly 200 casualties as a result of these attacks.

These criticisms follow Bolivia's decision to sever diplomatic ties with Israel due to its ongoing bombardment and blockade of Gaza, which has led to a rising toll of civilian casualties. Additionally, Colombia and Chile have recalled their ambassadors from Israel in response to the escalating situation.

Hezbollah Claims Downing Israeli Drone; Israel Offers Contradicting Account

Lebanon's Hezbollah announced on Thursday that it successfully brought down an Israeli drone over southern Lebanon using a surface-to-air missile. However, Israel's military contested this report, confirming the missile launch but asserting that its aircraft sustained "no damage".

This incident marks the second time this week that Hezbollah has asserted downing an Israeli drone utilizing a surface-to-air missile.

Hezbollah released a statement stating that its fighters targeted the drone shortly after midnight above two villages on the Lebanese side of the border. "It crashed and fell instantly," the statement noted.

U.S. Vice President Kamala Harris Engages in Talks on Israel-Hamas Crisis with U.K. PM Rishi Sunak

U.S. Vice President Kamala Harris engaged with United Kingdom Prime Minister Rishi Sunak on Wednesday. The discussion encompassed the endorsement of Israel's prerogative to safeguard its interests and underscored the pressing necessity to amplify the provision of humanitarian aid to Gaza.

Sharing the deliberations on social media, Ms. Harris affirmed, "Today, I met with Prime Minister @RishiSunak and discussed our support for Israel's right to defend itself and the urgent need to increase the flow of humanitarian assistance into Gaza. Together we are committed to helping civilians in need." This exchange reflects the joint commitment to addressing the humanitarian challenges in the region.