Alarming Pollution Levels: New Delhi, Kolkata, and Mumbai Rank Among World's Most Polluted Cities
New Delhi, Kolkata, and Mumbai face severe smog as air quality deteriorates. Learn about the factors contributing to alarming pollution levels. Stay informed.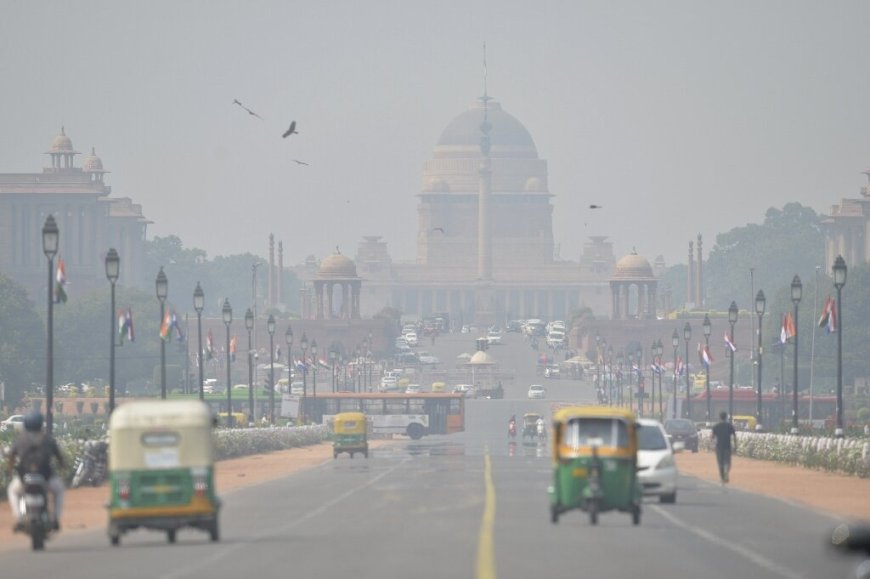 Alarming Pollution Levels: New Delhi, Kolkata, and Mumbai Rank Among World's Most Polluted Cities
New Delhi, Kolkata, and Mumbai have gained notoriety as some of the world's most polluted cities, with New Delhi experiencing a hazardous level of smog. The air quality index remains in the "severe" category, posing serious health risks to residents. Factors like low temperatures, stagnant winds, and agricultural burning in neighboring states have contributed to this alarming surge in pollution levels.
The air quality index in the Indian capital has plummeted to the "severe" category, raising significant health concerns for its inhabitants. This disconcerting revelation stems from data compiled by the Swiss Group IQAir.
As of 7:30 am today, New Delhi has once again claimed the dubious distinction of topping the real-time list, boasting an Air Quality Index (AQI) of 483. Following closely behind is Lahore, registering an AQI of 371. Simultaneously, Kolkata and Mumbai grapple with severe air pollution, recording AQI levels of 206 and 162, respectively. Officials attribute this hazardous surge in air pollutants to a combination of factors: low temperatures, stagnant winds, and the practice of burning agricultural residues in neighboring states.
Below Are the Most Polluted Cities in The World as of Today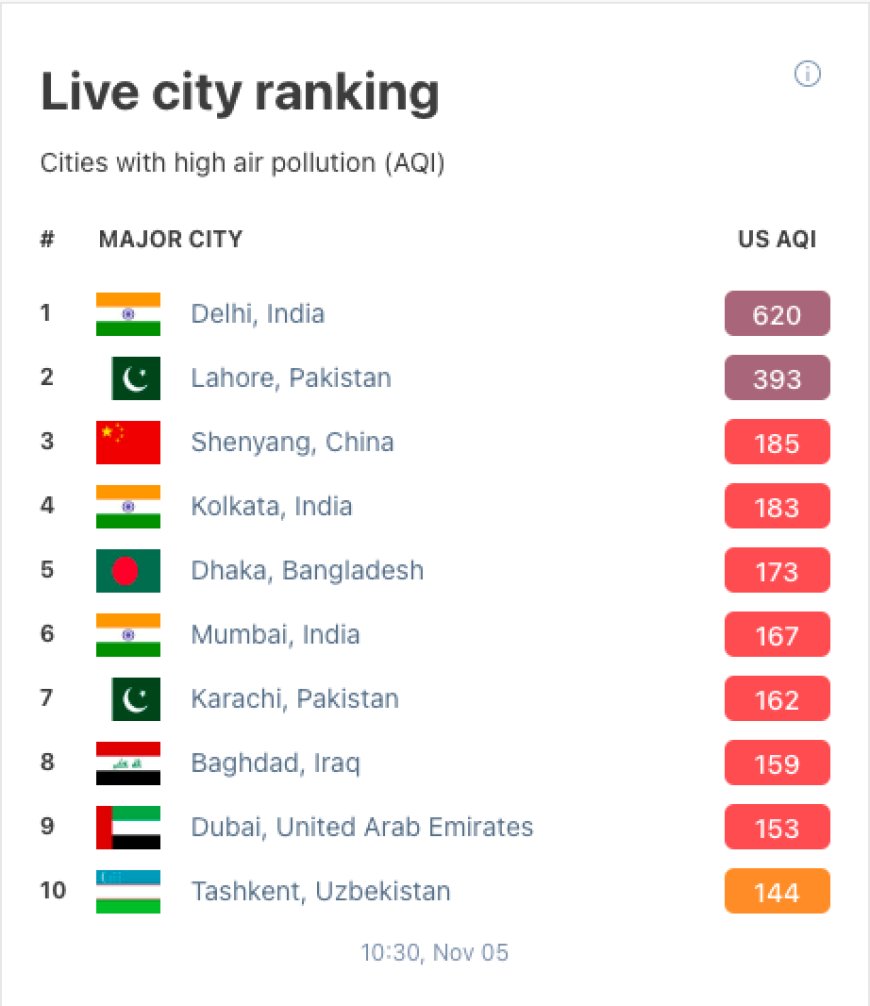 A distressing scenario unfolds as many of New Delhi's 20 million residents report discomfort, experiencing irritated eyes and scratchy throats. The air takes on a foreboding grey hue, with AQI levels surpassing 550 in certain monitoring stations.
For context, an AQI range of 0-50 is deemed favorable, while the range of 400-500 poses a threat to both healthy individuals and those with pre-existing health conditions.
Dr. Ahmed Khan, a Delhi-based physician, took to the social media platform X to express his concern: "In my last 24 hours on duty, I saw babies coughing, children coming in distressed with rapid breathing."
The concentration of fine particulate matter, scientifically referred to as PM2.5, stands at a staggering 523 milligrams per cubic meter—over 100 times higher than the permissible guidelines set by the World Health Organization. Prolonged exposure to these minuscule particles, which are approximately 30 times finer than a human hair, can lead to chronic heart and respiratory ailments, as they can infiltrate the bloodstream through the lungs.
In response to this escalating crisis, a contingency plan has been set in motion in the national capital. This plan entails suspending construction activities, promoting public transportation, and encouraging remote work whenever feasible.
Notably, India is currently hosting the Cricket World Cup, prompting organizers to prohibit fireworks during matches in Mumbai and Delhi to prevent exacerbating the already hazardous levels of air pollution.
Bangladesh's scheduled match against Sri Lanka in Delhi on Monday hangs in the balance, as the haze shows little sign of dissipating, leading to the cancellation of a planned training session on Friday.
Must Read: | Israel-Hamas Conflict Continues for 29th Day: US Secretary of State Talks with Israeli Prime Minister