Fukrey 3 Review: Varun Sharma, Pankaj Tripathi Shine in a Riotous Comedy Ride
Get ready for a laughter-filled ride with Varun Sharma and Pankaj Tripathi in 'Fukrey 3'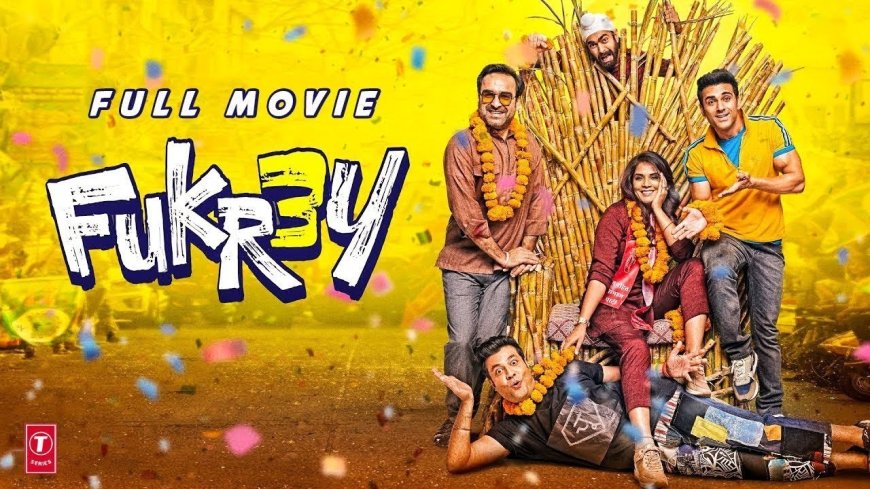 Fukrey 3 Review: Varun Sharma, Pankaj Tripathi Shine in a Riotous Comedy Ride
In a cinematic landscape often filled with high-stakes dramas, 'Fukrey 3' stands out as a refreshing beacon of carefree fun. Varun Sharma and Pankaj Tripathi lead a stellar cast, proving once again that simple comedy is an art form not to be underestimated.
Rating: ★★★☆☆
Starring: Varun Sharma, Pankaj Tripathi, Pulkit Samrat, Manjot Singh, Richa Chadha, Manu Rishi Chadha, and more.
Directed by: Mrighdeep Singh Lamba
The Good: Pankaj Tripathi's comedic timing is impeccable, infusing every scene with an infectious hilarity. It's hard to put into words, but his mere presence on screen elevates the humor to another level.
The Not-So-Good: The film momentarily veers into preachy territory in the second half, delivering a social message that feels forced. An important cameo also feels somewhat out of place.
Best Time for a Break: The second half offers several opportunities for a quick break, but don't let that deter you from enjoying the rollicking ride.
To Watch or Not to Watch: Absolutely! However, if you haven't experienced the first two installments, it's worth catching up on them before diving into this one.
Available On: Theatrical Release
Runtime: 2 Hours and 25 Minutes
The 'Fukra' gang, comprised of Hunny (Pulkit Samrat), Choocha (Varun Sharma), Lali (Manjot Singh), and Pandit (Pankaj Tripathi), returns for another misadventure. This time, they've yet to strike it rich with Choocha's peculiar 'Deja Chu' power. Instead, they find themselves in odd jobs, blissfully ignoring the ambitions of Bholi Punjaban (Richa Chadha), who's poised to enter the world of politics.
However, as the story dictates, they can't ignore the leading lady for long. Circumstances lead them to collaborate with her, inadvertently thrusting Choocha into the spotlight. This sets the stage for an unexpected political showdown. Meanwhile, a quest for coal-mine diamonds, involving Shunda Singh Ahluwalia (Manu Rishi Chadha), offers its own set of comedic escapades, wrapping up neatly without wearing out its welcome.
Fukrey 3 Review: Script Analysis
Vipul Vig's narrative is unmistakably 'Fukrey,' establishing a unique identity for a franchise known for its zany friendships and even zanier superpowers. While we instinctively associate certain films with specific elements (think bikes for 'Dhoom' or an eyebrow raise for 'MSG – Messenger Of God'), 'Fukrey' stands out in its own right.
The second half diverges slightly from the winning formula of its predecessors. It feels like the writers showcased their best material upfront, leaving the latter half a tad less uproarious. Nevertheless, the engaging performances keep you invested.
Vipul Vig's dialogues, with additional contributions from Mrighdeep Singh Lamba, maintain the same madcap spirit. Each character's lines are crafted with precision, catering to their distinct personalities. Pankaj Tripathi's Pandit delivers lines that rely heavily on his impeccable delivery, while Varun Sharma's Choocha delivers lines you'd only expect from someone of his unique comedic caliber.
Quotes like "Vasco Da Gama once said: In foreign lands, forget about dignity, forget about modesty, but never forget your passport" - particularly when delivered by Pankaj Tripathi - underscore the delicate balance between complexity and simplicity that defines great comedy, and 'Fukrey' consistently hits the mark.
Fukrey 3 Review:
Stellar Performances
The decision to spotlight Varun Sharma's Choocha pays off, as he remains a fan-favorite centerpiece. While some moments may lean a bit too far into the comedic realm, Varun's natural delivery saves the day.
Pankaj Tripathi steals the show and is undoubtedly deserving of even more screen time in 'Fukrey 4.' There was a secret hope that the filmmakers would take this route, but alas, this round belongs to Choocha. With each installment, Pandit's role expands, a testament to Tripathi's evolution as an actor over the past decade.
Unfortunately, the side-splitting moments that once belonged to Choocha and Pandit are somewhat overshadowed by Pulkit Samrat's Hunny and Manjot Singh's Lali. It's not a matter of screen time, but rather a question of how the comedic gems are distributed and utilized. Richa Chadha, as Bholi, momentarily steps out of the spotlight, as the narrative introduces another antagonist in Amit Dhawan's Dhingra, who regrettably adds little to the plot. Manu Rishi Chadha, too, seems underutilized, a missed opportunity after the richness Richa brings to the film.
Fukrey 3 Review: Direction and Music
Mrighdeep Singh Lamba maintains the winning formula, blending slapstick humor with clever quips that define the essence of 'Fukrey.' While the infusion of superpowers might border on the extravagant, it doesn't overshadow the charm of the previous installment's 'Deja-Chu.'
Abhishek Nailwal's background score adds an extra layer of amusement, cleverly synchronized with the witty dialogues for maximum impact. While the new songs fail to leave a lasting impression, the filmmakers wisely rely on tried-and-true tracks like "Ambarsariya" to maintain the melodic momentum.
Fukrey 3 Review: The Final Verdict
In the cryptic title of 'Fukrey 3,' the film's rating is subtly encoded, waiting to be deciphered by keen-eyed viewers. It proudly flaunts the audacious spirit of the narrative, celebrating a brand of lighthearted entertainment that has become increasingly rare.
Fukrey 3 Trailer Fukrey 3 hits theaters on September 28, 2023.
Share your experience of watching Fukrey 3 with us.