Families March on Jerusalem Demanding Action for Israeli Hostages Held by Hamas
Families March for Answers: Urging Government Action to Bring Home Hostages Held by Hamas.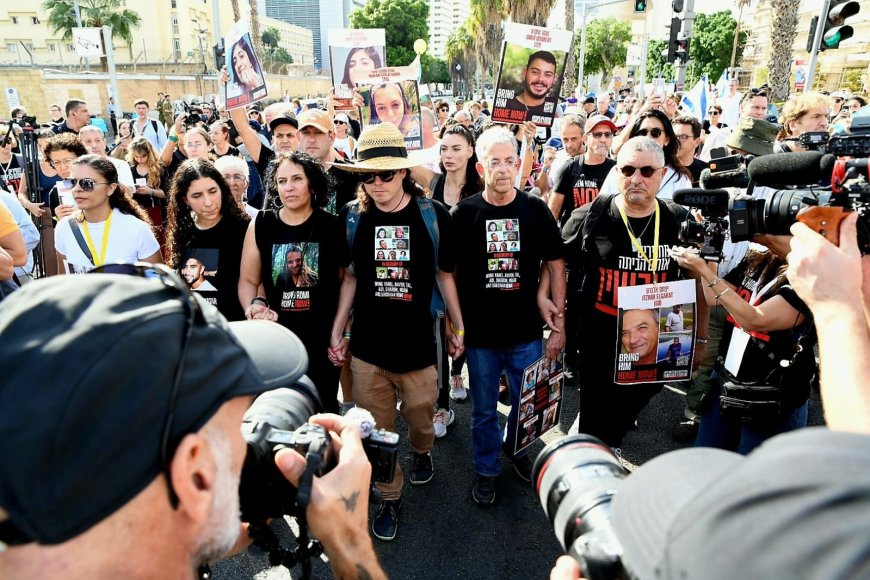 Families March on Jerusalem Demanding Action for Israeli Hostages Held by Hamas
In Jerusalem, families and supporters finished a five-day walk on Saturday, wanting the government to help their loved ones held by Hamas. Around 20,000 people, along with others who joined along the way, marched to put pressure on the government to bring back the hostages.
Noam Alon, 25, who holds a picture of his missing girlfriend Inbar, said they want the government to meet with them and explain how they plan to bring back the hostages. He said they can't wait any longer and demand the government take action now, no matter the cost.
Around 240 Israelis, from babies to grandparents, were taken by Hamas during an attack in October. The marchers are worried about the safety of their missing family members and friends during Israeli attacks on Gaza.
Some blame the government for not being ready for the attack by Hamas. Yair Lapid, an opposition leader, who mostly supports the war, joined the march. Miki Zohar, part of Prime Minister Benjamin Netanyahu's team, faced angry comments when visiting the marchers.
Hamas had threatened to harm the hostages but later said some might have been hurt in Israeli air strikes. This made families and campaigners more anxious, pushing for quick talks and swaps to bring the hostages home.
Stevie Kerem, who is part of the campaign, said it's frustrating that the government isn't sharing information with the families about the negotiations and what's happening.
Adriana Adri, whose 85-year-old mother-in-law was taken by Hamas, emphasized the urgency, saying they don't have time and don't know if she's okay.
Despite the tiredness and frustration, some marchers found comfort in the support they received from people across Israel. Meirav Leshem-Gonen, whose daughter Romi is among the hostages, said having all of Israel around them gives her hope for a positive outcome.
Also Read: Tragic News: Israeli Soldier Noa Marciano's Body Recovered in Gaza Strip