Live Updates on Israel-Hamas War: Israeli military checks Al Shifa hospital twice in one day, saying they found weapons
Live Updates on Israel-Hamas War: The first truck carrying fuel into Gaza, since the total siege imposed by Israel in its conflict with Hamas, has crossed from Egypt.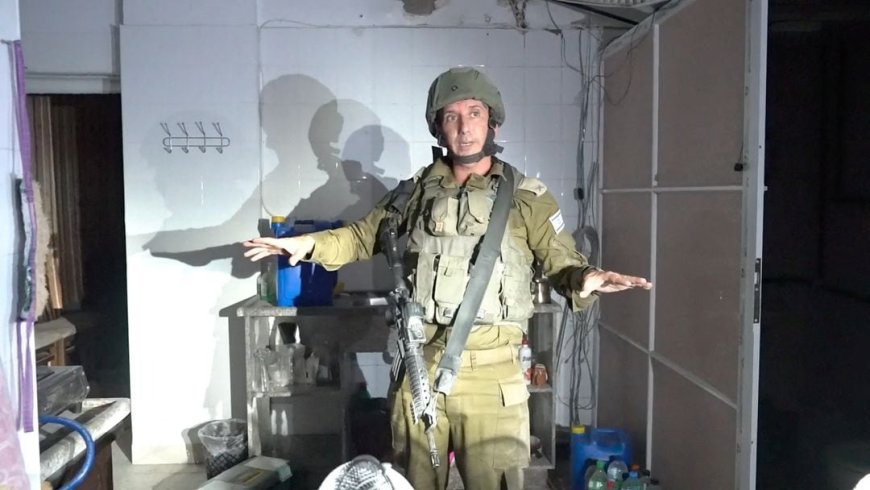 Live Updates on Israel-Hamas War
Live News Update November 16, 2023: In the latest developments of the Israel-Hamas conflict, the Israeli military conducted two searches at Gaza's Al Shifa hospital within a 24-hour timeframe, alleging the discovery of weapons. These claims face opposition from Hamas, which contends that the situation was intentionally staged. Rear Admiral Daniel Hagari, addressing the media late on Wednesday, affirmed the continuation of precise, intelligence-based searches aimed at uncovering potential terror activities within the hospital.
Concurrently, US President Joe Biden conveyed his perspective to Israeli Prime Minister Benjamin Netanyahu, emphasizing the necessity of a two-state solution to address the Israel-Palestinian conflict and advising against the occupation of Gaza.
In terms of the grim toll, over the past month, more than 11,000 Gazans have tragically lost their lives in Israeli strikes, with children comprising approximately 40% of the victims, as reported by the enclave's health department. In an unforeseen assault on October 7, Hamas claimed the lives of over 1,200 Israelis. Presently, more than 240 individuals are being held hostage by the militant group, adding to the complexities of this ongoing conflict.
Read Also: Israeli Forces Found Weapons in Al Shifa Hospital During Ongoing Raid
Israeli military forces and tanks are currently in the process of inspecting the Shifa Hospital compound in Gaza, while the Foreign Minister of Iran holds discussions with a peace-oriented group.
Stay connected for live updates provided below.
Key Moments
Israeli forces escalate search at Shifa Hospital, Gaza.
Iran's Foreign Minister in talks with peace group.
Events highlight complex military-diplomatic dynamics.
---
Biden: Israel Enters Al Shifa with Limited Troops Amid Accusations of War Crimes

US President Joe Biden asserts that Hamas is committing war crimes by housing its military headquarters under Al Shifa Hospital. Biden reveals that Israel's entry into Al Shifa involved a limited number of troops carrying guns, emphasizing the importance of careful actions in the ongoing conflict.

Protest Outside Democratic HQ Leads to Arrests Amid Calls for Cease-Fire in Israel-Hamas Conflict

Police in the nation's capital respond to a demonstration outside the Democratic National Committee headquarters, where approximately 150 people were involved in what US Capitol Police describe as an "illegal and violent protest." The incident, occurring in the Capitol Hill neighborhood of Washington, led to the evacuation of members of Congress from the building.

A video posted on social media reveals a tense confrontation as protesters, many donning black shirts reading "Cease Fire Now," clashed with police officers near the Democratic National Committee headquarters. The footage captures instances of protesters shoving officers and attempting to seize metal barricades, while officers respond by pushing back. Notably, demonstrators include members of If Not Now and Jewish Voice for Peace, groups known for organizing other protests in Washington.

UN Refugee Agency Receives First Batch of Fuel but Urgently Calls for More

The head of UNRWA, the UN relief agency for Palestinian refugees, confirms the arrival of 23,000 liters of fuel in Gaza via the Rafah crossing. However, expressing the urgent need for additional supplies, the agency states that Israeli authorities have imposed restrictions, allowing the fuel solely for transporting aid into the besieged territory.

Philippe Lazzarini emphasizes that this fuel cannot be utilized for broader humanitarian purposes, including medical and water facilities, or UNRWA's essential operations. Highlighting the critical situation, Lazzarini stresses that UNRWA requires 160,000 liters of fuel daily for basic humanitarian operations.




Biden Warns Against Gaza Occupation, Advocates Two-State Solution in Israel-Palestinian Conflict

US President Joe Biden emphasizes that he conveyed to Israeli Prime Minister Benjamin Netanyahu the importance of a two-state solution to resolve the Israel-Palestinian conflict. Biden asserts that occupying Gaza would be a mistake.

He also informs reporters that he is actively working to free hostages held by the Hamas militant group in Gaza, clarifying that this effort does not involve sending in the US military.




Qatar Mediates Israel-Hamas Deal: 50 Hostages for 3-Day Ceasefire

Qatari mediators are actively negotiating a deal between Hamas and Israel, aiming to secure the release of approximately 50 civilian hostages from Gaza. The proposed agreement, coordinated with the U.S., includes a three-day ceasefire and involves Israel releasing Palestinian women and children from its jails.

Additionally, the deal aims to increase the flow of humanitarian aid into Gaza. While Hamas has agreed to the general outlines, Israel is still in negotiations, and specific details are yet to be finalized. The number of Palestinian women and children to be released by Israel remains undisclosed as part of the ongoing discussions.




Hamas Command Center in Gaza Hospital: Video Reveals Weapons and Combat Gear

The Israeli military releases a video alleging the discovery of a Hamas command center in the embattled Al Shifa hospital complex in Gaza. The footage shows weapons and combat gear found within the hospital, raising accusations of Hamas using the medical facility for military purposes.