Pierce Brosnan Gifts 60 Red Roses to Wife Keely Shaye Smith on Her 60th Birthday
James Bond Star Marks Milestone Birthday and 22nd Anniversary with a Romantic Floral Tribute.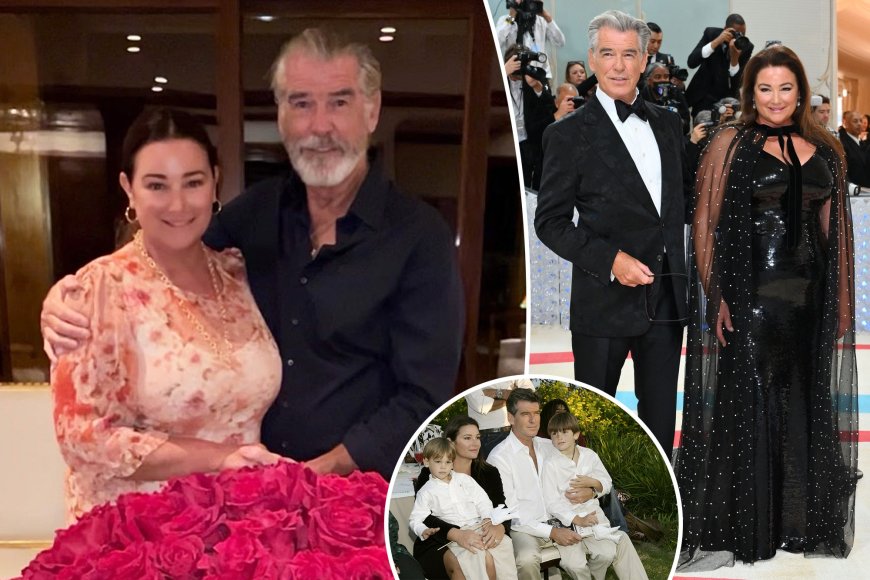 Pierce Brosnan Gifts 60 Red Roses to Wife Keely Shaye Smith on Her 60th Birthday
Renowned actor Pierce Brosnan, best known for his portrayal of James Bond, celebrated his wife Keely Shaye Smith's 60th birthday in a spectacular fashion. The Hollywood star marked the occasion by presenting Keely with a stunning bouquet of 60 vibrant red roses, in a heartwarming gesture of love and affection.
This gesture not only celebrated Keely's milestone birthday but also commemorated the couple's 22nd wedding anniversary, which they recently observed. Pierce, 70, took to social media to share a touching moment captured in a photograph. In the image, he is seen with his arm wrapped around Keely, radiating joy and contentment.
In a caption accompanying the photo, Pierce Brosnan expressed his sentiments, saying, "Sixty roses for my brown-eyed girl on her 60th birthday. Forever happy and blessed was I to be sitting there when you walked around the corner early one morning in Cabo San Lucas @keelyshayebrosnan."
Keely, an accomplished actress in her own right, reciprocated the love earlier in August by posting a throwback picture of their wedding day in Ireland. Alongside the image, she wrote, "Happy Anniversary @piercebrosnanofficial. Thank you for always being up for this adventure called life." The post also included their wedding date and the significant day they first met, April 8, 1994.
Notably, Keely also paid tribute to Pierce on his 70th birthday in May with a heartfelt message. Accompanying a photo of the actor amidst a field of blossoms, she wrote, "Happy Birthday my darling @piercebrosnanofficial. Wishing you a blessed, bountiful and adventurous new trip around the sun. It's not how old you are… it's how bold you are in life. I love you with all my heart."
Pierce Brosnan and Keely Shaye Smith tied the knot in 2001 and share two children together, Dylan, 26, and Paris, 22. Additionally, Pierce is a proud father to three other children from his first marriage to the late Australian actress Cassandra Harris, who tragically passed away from cancer at the age of 43 in 1991.
Reflecting on his upbringing, Dylan shared insights in a 2022 interview with GQ, emphasizing his father's approachability. He revealed, "I always thought he had a lot of friends, growing up because people would come up to him in the street, and… he (would) talk to everyone for a really long time." The Brosnan children enjoyed an idyllic childhood, immersed in nature and adventurous activities.
Pierce Brosnan and Keely Shaye Smith's enduring love story continues to inspire fans around the world, exemplifying a deep and abiding connection forged over the years.
Must Read: Ellen DeGeneres and Jennifer Aniston's Heartfelt Embrace: A Look Back