India VS Pakistan World Cup 2023 Live: India Beats Pakistan by 7 Wickets in World Cup 2023 Match
Follow the latest Cricket World Cup 2023 action at Narendra Modi Stadium in Ahmedabad. Pakistan's innings went from 155/2 to 191 all out. Stay updated with live scores and updates.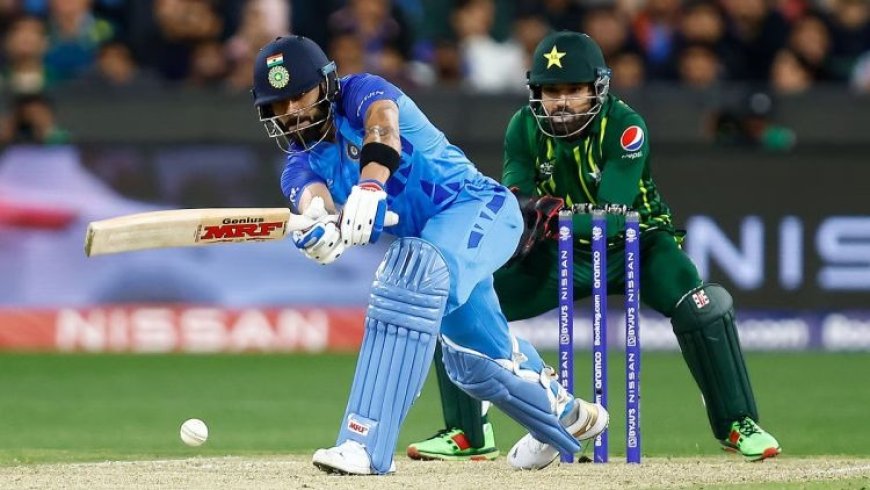 India VS Pakistan CWC 2023 Live: India is playing very well, making it hard for Pakistan
Right now, there's an important cricket match happening between India and Pakistan in the 2023 World Cup. India is doing really well, especially in the middle part of the game. Players like Jasprit Bumrah and Kuldeep Yadav from India are making it hard for Pakistan to score points.
At the beginning, Pakistan was doing quite good, with a score of 155/2. But things changed quickly. India's Mohammed Siraj and Hardik Pandya did some amazing plays, stopping Pakistan from getting more points.
Before the match, the captains, Rohit Sharma and Pakistan's captain, had an important talk. Rohit Sharma decided that India will bowl first. He also made a smart move by bringing in Shubman Gill instead of Ishan Kishan. Pakistan's Abdullah Shafique and Imam-ul-Haq started strong, hitting a lot of good shots. But Mohammed Siraj stopped Abdullah's run.
This match is not just a regular game; it's a really big rivalry. People all over the world have been eagerly waiting for this. The stadium in Ahmedabad is huge and can fit around 130,000 people, making it even more exciting.
When it comes to history, India has always won against Pakistan in the World Cup. This has been going on for a long time. Pakistan is really trying hard to change this.
There are also some interesting one-on-one battles to watch. Like Shaheen Afridi versus Rohit Sharma, and Jasprit Bumrah against Babar Azam.
All in all, this match is super intense. Cricket fans everywhere are glued to their seats, watching this important moment in cricketing history.
Catch Live Updates from here...
Key Moments
Bumrah's precise bowling changed the game's course.
Kuldeep's spin claimed crucial wickets for India.
Babar Azam's determined half-century provided a stand for Pakistan.
Pakistan faced a dramatic collapse, losing 5 wickets for just 16 runs.
---
India Dominates with Rohit Sharma's Explosive Batting Display Against Pakistan

the Indian team is displaying a formidable performance. Rohit Sharma, the Indian opener, is showcasing an exceptional batting performance. He has scored an impressive 44 runs off just 29 balls. Virat Kohli, India's captain, is also contributing well with 15 runs off 14 balls.

Rohit Sharma's outstanding display includes hitting four sixes, underlining his dominance in the game. It appears he's continuing from where he left off in the previous match against Afghanistan.

At the end of 9 overs, the Indian team has accumulated a commendable total of 77 runs for the loss of one wicket. Pakistan faces a challenging task to curb this onslaught and regain control of the match. The game is in an exciting phase, with both teams giving their all on the field. Stay tuned for more live updates on this thrilling encounter between India and Pakistan in the World Cup.




Virat Kohli Departs after Promising Start: India vs Pakistan, World Cup

Virat Kohli, India's star batsman, has been dismissed. Kohli attempted a pull shot, but unfortunately, the ball went straight into the hands of the fielder at mid-on. It was a rather soft dismissal, and Kohli himself seems visibly frustrated with the outcome.

This marks the end of a promising inning for Kohli, who managed to score 16 runs off 18 balls. Hasan Ali, the Pakistani bowler, deserves credit for this breakthrough. He executed a well-placed delivery that led to Kohli's departure.

With this wicket, India's score stands at 79/2 in 9.1 overs. While Kohli won't be able to continue his innings, the Indian team will look to build on this platform and maintain their momentum in the match. The game continues to be filled with excitement and twists, keeping the fans on the edge of their seats. Stay tuned for more live updates from this enthralling encounter.




Rohit Sharma Shines Bright: Scores Fifty in World Cup against Pakistan

Rohit Sharma, India's dynamic opener, has reached a significant milestone. With a well-timed single off the first ball in the 14th over bowled by Shadab, Rohit secures yet another half-century. This impressive feat has been accomplished in a mere 36 balls, showcasing his exceptional skills at the crease.

As the match progresses, Rohit's stellar performance remains a pivotal factor for India. With the score now at 97/2 in 13.1 overs, India is looking to solidify their position in this crucial World Cup encounter against Pakistan. The excitement continues to build, promising an electrifying finish to the match.




Rohit Sharma Leads the Charge: India Sets Steady Pace against Pakistan

Rohit Sharma is showcasing his batting prowess. He's scored an impressive 61 runs in just 42 balls, steering India towards a strong position. Shreyas is also contributing steadily with 16 runs off 19 balls.

India's required run rate is 2.31, but they're currently going at a faster pace of 7.40. This means they're slightly ahead in the game right now. After 15 overs, India's score stands at 111/2. The match is finely poised for an exciting finish. Keep following for more live updates on this thrilling contest!




Rohit Sharma's Blazing Half-Century Puts India in Command

Rohit Sharma, the captain of the Indian team, is showcasing exceptional form. He's notched up his 53rd ODI fifty in just 36 balls, displaying remarkable skill at the crease. With 3 fours and 4 sixes, Rohit's innings has been a thrilling spectacle.

This commanding performance has put India in a comfortable position to chase down the target of 192 set by Pakistan. The Indian batting lineup is making this task appear quite manageable. The pressure is mounting on the Pakistani bowlers, as they face a tough challenge in containing Rohit's onslaught. Stay tuned for more live updates on this gripping match!




Rohit Sharma and Iyer Steadily Pushing India Forward

Rohit Sharma has demonstrated his prowess, amassing 66 runs off 50 deliveries. At the other end, Iyer has contributed a solid 18 off 23 balls. While boundaries might be scarce at the moment, the duo is effectively rotating the strike, maintaining a steady flow of runs.

As the game progresses, India stands at 118/2 after 17 overs, steadily inching towards their target. The partnership between Rohit and Iyer is proving to be instrumental in India's pursuit of victory. Keep following for live updates on this intense clash!