"Blue Beetle" Claims Victory Over Barbie in US Box Office, Yet Struggles as DC's New Superhero Film - Here's the Inside Scoop
Catch the latest entertainment scoop as "Blue Beetle" claims victory over "Barbie" at the North American box office. Dive into the unique journey of this new DC superhero film and its struggles, all while taking a closer look at the top contenders in the entertainment arena.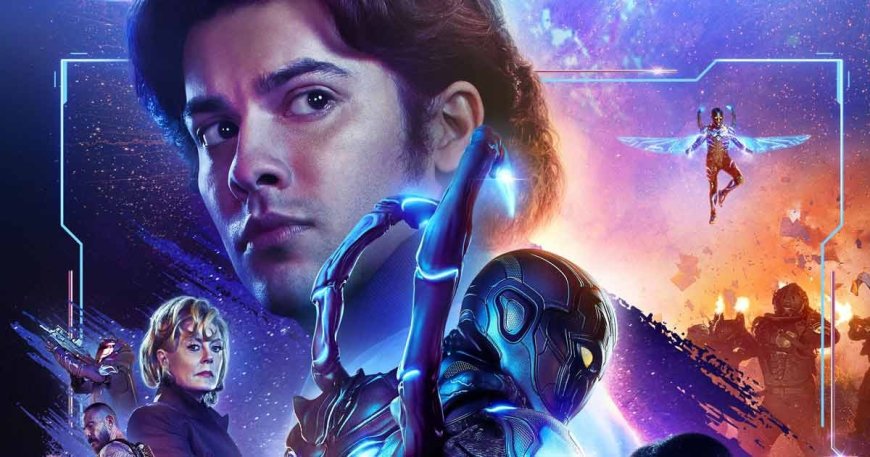 Blue Beetle Claims Victory Over Barbie in US Box Office
"Blue Beetle" stepped into the limelight, seizing the throne from the iconic "Barbie" at the North American box office. However, while the film celebrated its ascent, it faced challenges as it sought to establish its mark as a new DC superhero flick.
The latest creation from DC Studios and Warner Bros., "Blue Beetle" triumphantly rose to the top of the charts during the Friday-to-Sunday period, effectively dethroning the reigning queen of pink, "Barbie." The movie showcased an alluring blend of live-action dynamics and a groundbreaking Latino lead, making it an industry first.
Watch Blue Beetle Official Trailer:
Yet, amid the jubilation, "Blue Beetle" encountered a bump on its path to glory. With an estimated collection of $25.4 million, the film's debut performance fell short of expectations, labeling it as the "lowest DC superhero debut of this era," only trailing 2021's "Wonder Woman 1984," which faced its own fiscal challenges.
The narrative of "Blue Beetle" unfolds with 22-year-old American actor Xolo Mariduena at the helm. His portrayal of a fresh college graduate whose life takes an extraordinary turn after being possessed by the enigmatic Scarab, a source of superhuman abilities, added a unique spin to the superhero genre.
Delving into the figures, industry analyst David A. Gross provided insights into the film's performance. While "Blue Beetle" managed to capture audience attention, its ticket sales stood at a third of the average for recent superhero releases. However, Gross pointed out the silver lining – the film's positive reviews and promising international prospects.
Meanwhile, "Barbie," despite entering its fifth week on the big screen, proved its resilience. With a commendable $21.5 million in ticket sales, the fantasy-comedy maintained its strong presence, demonstrating that even after weeks in theaters, it could still captivate audiences. Warner Bros.' creation has now amassed a staggering global box office haul of $1.27 billion, a testament to its enduring charm.
In the third slot, Universal's "Oppenheimer" continued to leave an impact, crossing the $700 million threshold globally. The historical drama, centered around the inception of the first atomic bomb, earned $10.6 million during its fifth week, highlighting its continued appeal.
Paramount's animated delight, "Teenage Mutant Ninja Turtles: Mutant Mayhem," clinched fourth place with earnings of $8.4 million. Boasting a star-studded voice cast that includes Maya Rudolph, Ayo Edebiri, John Cena, Jackie Chan, Ice Cube, and Paul Rudd, the film managed to maintain its charm among audiences.
As the curtains closed on the weekend's box office performance, Universal's "Strays" secured the fifth spot with $8.3 million in earnings. While its start may raise eyebrows considering its $46 million budget, it's only the beginning of its cinematic journey.
In this cinematic roller coaster, "Blue Beetle" embarked on its journey with a mix of triumph and trial. While its victory over "Barbie" was a feat to celebrate, the challenges of carving a niche in the DC superhero domain added complexity to its narrative. As the entertainment world watches closely, the saga of "Blue Beetle" continues, reminding us that the path to superhero greatness is rarely without its twists and turns.
Is Blue Beetle hit or flop?
The cinematic journey of 'Blue Beetle' commenced with a bang, collecting a remarkable $30 million during its initial four days in the United States box office. The film garnered enthusiastic and favorable reviews, propelling its triumph forward.
What's Blue Beetle's Earnings So Far?
The worldwide earnings have reached approximately $717.8 million as of Sunday. Despite featuring Xolo Maridueña, 'Blue Beetle' debuted with earnings slightly below projections, registering one of the more modest openings for a DC Comics film.
You Might Also Enjoy: Gadar 2 Achieves Outstanding Box Office Success, Crossed Rs 400 Crore Landmark