Live Updates from Gaza War Zone: Israeli Troops and Tanks Enter Gaza's Shejaiya Area
In a second overnight operation, troops and tanks make a temporary entry into Gaza. Meanwhile, a missile strikes the Egyptian town of Taba, prompting action from the mayor.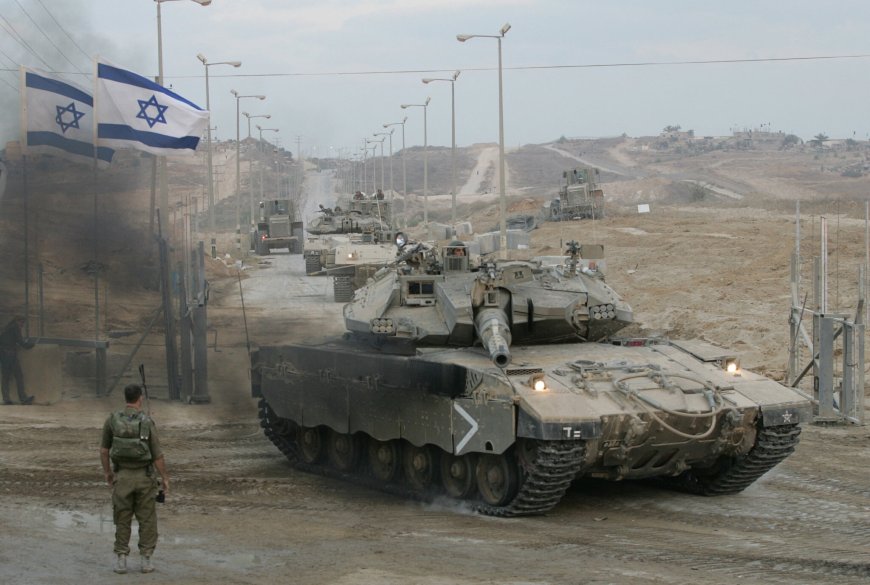 Live Updates from Gaza War Zone: Israeli Troops and Tanks Enter Gaza's Shejaiya Area | Photo: AFP
During the night, Israel conducted a second limited incursion into the Gaza Strip. This move involved sending in tanks and troops, with the Israel Defense Forces leading the operation. The focus was on striking Hamas operatives and their facilities.
This operation centered around the Shuja'iyya neighborhood in eastern Gaza City. It was a coordinated effort, combining infantry, combat engineering, and armored forces. Additionally, Israeli Air Force drones and combat helicopters provided air cover.
כוחות חי"ר, שיריון והנדסה בפיקוד עוצבת ׳געש׳ (36) ובליווי של כטמ"מים ומסוקי קרב של צה"ל פשטו ביממה האחרונה פשיטה במרכז רצועת עזה. כחלק מהפשיטה, כלי טיס וארטילריה של צה״ל תקפו מטרות של ארגון הטרור חמאס בשכונת סג'עיה וברחבי הרצועה >> pic.twitter.com/oP6aTax85Y — צבא ההגנה לישראל (@idfonline) October 27, 2023
The IDF executed artillery fire and airstrikes on various sites associated with the Hamas terror group. This included targeting anti-tank missile launch sites and command centers. As a result of the operation, several Hamas members were successfully neutralized by the Israeli forces.
After several hours, all Israeli forces withdrew from the area, and no casualties were reported. This marks the second consecutive night of IDF forces briefly entering the Gaza Strip. These actions are seen as part of the preparation for a potential broader ground offensive in the near future.
Also Read: Live Updates: Israel Escalates Intensive Bombardment of Gaza in Conflict with Hamas
iShook Daily is providing live updates on Friday's events as they happen.
Key Moments
Israel conducted a second limited incursion into Gaza.
Tanks, troops, and air support were utilized in the operation.
The focus was on striking Hamas operatives and their facilities.
No casualties were reported during the operation.
---
Israeli Forces Conduct Overnight Raids in Northern West Bank

Israeli forces conducted overnight raids in several cities in the northern West Bank, resulting in casualties among the Palestinian population. According to official reports from the Palestinian Wafa news agency, four Palestinians lost their lives, and at least 12 others sustained injuries during the operations.

In the Jenin refugee camp, clashes erupted between members of the Palestinian Islamic Jihad (PIJ) and Israeli troops who entered the area with bulldozers. Three fatalities were reported, including Ayser Mohammad Al-Amer, a local field commander for the PIJ. Another individual, Abdullah Basam Abu Al-Haija, was fatally shot, and a third, Jawad Al-Turki, was discovered after the troops withdrew from the city.

In Qalqilya, Qassam Abdel Hafez, who had previously served time in an Israeli prison, was reportedly shot and killed. The circumstances surrounding his shooting remain unclear.

Additionally, four individuals were shot and injured during a raid in Nablus, according to reports from WAFA.

These cities in the northern West Bank, where terror groups have sought to challenge the authority of the Palestinian Authority, have been the focal points of Israeli raids for over a year.

As of now, the Israel Defense Forces (IDF) have not provided an immediate comment regarding the operations. The situation continues to develop, and further updates will be provided as information becomes available.

South Korea and US Troops Prepare for Potential Artillery Threats

South Korean and American soldiers have been practicing how to defend against possible surprise attacks using big guns from North Korea. They did this by shooting bullets in a training exercise.

Usually, these two groups of soldiers practice together. But this time, they were extra careful because of an attack that happened in another place far away. This attack made South Korea worried because it shares a very strong fence with its rival neighbor, North Korea.

A little while ago, a group of about 2,500 fighters led by Hamas suddenly went into southern Israel from a place called Gaza. They did this while shooting lots of rockets and big bullets. This attack hurt and killed a lot of people, especially regular citizens. They also took more than 200 people away as prisoners.

People who know a lot about this kind of thing say that North Korea has big guns that can shoot about 16,000 bullets in just one hour if there is a fight. This is dangerous for the capital city of South Korea, Seoul, because it is not too far from the border where North Korea is.

In the practice exercise, they pretended that the enemy might attack them suddenly, just like what happened in the other place with Hamas. They practiced how to stop the big guns that the enemy might use. The leaders of South Korea's Ground Operations Command talked about this in an official message.





Cabinet Considers Allowing Police to Use Live Fire in Extreme Situations

The government is discussing a proposal that would give the police the authority to use live ammunition against Israeli citizens who are obstructing roads or town entrances during a "multi-front war." This measure is being considered to ensure public safety in highly critical situations.

Under the proposed rules, police officers would only require authorization from a high-ranking officer before resorting to live fire. This decision has been accelerated with the support of Attorney General Gali Baharav-Miara, in alignment with the recommendation from National Security Minister Itamar Ben Gvir earlier this year.

Interior Minister Calls for Reversal of Construction Ban Impacting Arab Workers

Interior Minister Moshe Arbel has sent a letter to Givatayim mayor Ran Kunik, urging him to reconsider a decision to halt construction activities in the town. The move was intended to prevent predominantly Arab construction workers from entering.

Minister Arbel emphasizes the importance of not jeopardizing a person's livelihood based on their background, nationality, or religion. He asserts that such decisions can negatively impact the social harmony within the country and inadvertently serve the interests of adversaries.

Israeli Surveillance Drone Crashes in Gaza City

Reports indicate that a small Israeli military surveillance drone, identified as a Skylark model, has crashed in the Zeitoun neighborhood of Gaza City. The drone was engaged in a reconnaissance mission when it unexpectedly descended from the sky, though the exact cause remains unknown. It's worth noting that several Skylark UAVs have previously encountered difficulties in hostile environments. The Hamas group has asserted claims of possessing anti-aircraft capabilities.

Six Wounded in Taba Missile Strike Discharged from Hospital

Al-Qahera, an Egyptian news outlet, confirms that all six individuals wounded in the missile strike on the Red Sea border town of Taba have been discharged from the hospital. Egypt is actively pursuing an investigation into the origin of the missile. This incident follows an attempted missile launch by Yemeni rebels toward Israel via the Red Sea, which occurred approximately a week ago.