Ganapath" Review: Does Tiger Shroff's Action-Packed Flick Live Up to Expectations?
Is 'Ganapath' Tiger Shroff's next action-packed hit? Read our in-depth review to discover if it lives up to expectations. Explore the performances, direction, and more.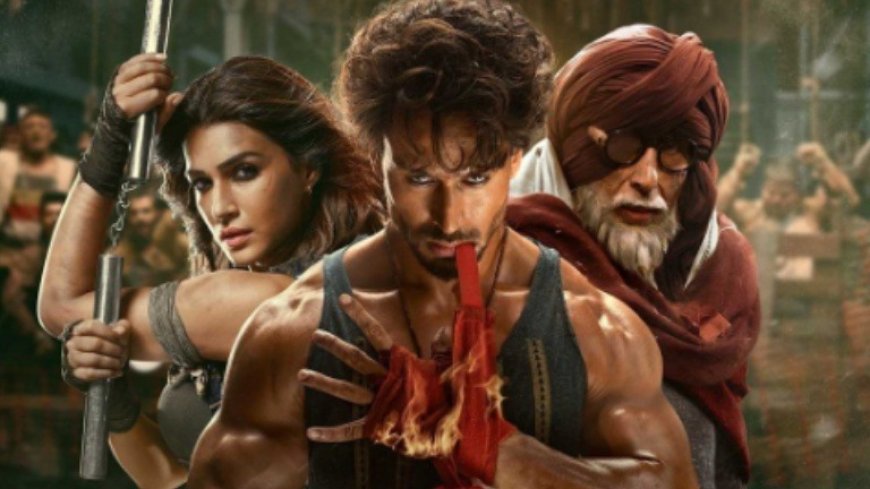 Ganapath
Star Cast: Tiger Shroff, Kriti Sanon, Amitabh Bachchan, Jameel Khan
Director: Vikas Bahl
What's Good About Ganapath Movie :
The film manages to create an intriguing dystopian world, drawing inspiration from popular films like "Divergent" and "The Hunger Games." Tiger Shroff's performance shines through, adding depth to his character. His finesse in dance and combat sequences is commendable and brings an added layer of authenticity to the action-packed scenes.
What's Bad
About Ganapath Movie :
The film grapples with predictability, especially in its narrative arc. The script falls short of offering a fresh perspective and leans heavily on Tiger Shroff's signature style. The VFX work, while ambitious, falters at times, causing noticeable lags and repetitions in crucial scenes.
Review Rating: ⭐☆☆☆☆
"Ganapath" promises a unique blend of action and dystopian drama. Tiger Shroff, Kriti Sanon, and Amitabh Bachchan lead the cast, setting high expectations. Director Vikas Bahl takes the reins, yet does the film soar or fall flat?
The narrative, inspired by films like "Divergent" and "The Hunger Games," introduces a divided society, pitting the affluent against the oppressed. The Gareebs, hopeful for a savior named Ganapath, seek to liberate themselves from Ameer dominance.
Tiger Shroff's character, Guddu, adds layers of intrigue. A playboy with a penchant for witty one-liners, Guddu embodies the archetypical hero. However, a surprising revelation transforms him into the prophesied Ganapath.
Script Analysis:
Vikas Bahl, known for directing acclaimed films like "Queen," ventures solo in "Ganapath." While his earlier success was a collaborative effort, this endeavor falls short. The storyline feels predictable, akin to Tiger Shroff's iconic shirtless sequences.
The writing lacks the depth and creativity needed to engage the audience. It assumes familiarity with Tiger's signature moves and overlooks the potential for a compelling narrative.
Star Performance:
Tiger Shroff delivers a commendable performance, displaying his trademark finesse in dance and combat. However, the film's shortcomings aren't solely his burden to bear. While his prowess elevates the action sequences, it can't salvage a lackluster script.
Kriti Sanon brings sincerity to her role, but her efforts are eclipsed by other production missteps. The film's technical aspects, such as VFX, could have been executed more seamlessly.
Direction and Music:
Vikas Bahl's direction falters, especially in the integration of computer-generated elements. The visual effects fall short of expectations, creating a disjointed viewing experience.
Amit Trivedi's soundtrack, while present, fails to leave a lasting impression. The songs serve their purpose, but none stand out as memorable.
The Last Word:
"Ganapath" falls into two distinct categories: a video game and a realistically rendered video game. Merging these elements proves challenging, ultimately damaging the overall viewing experience.
Ganapath Trailer Share your thoughts on "Ganapath" with us!
Must Read: Salman Khan Returns in Full Force with Tiger 3: Get Ready for an Action-Packed Bollywood Movie